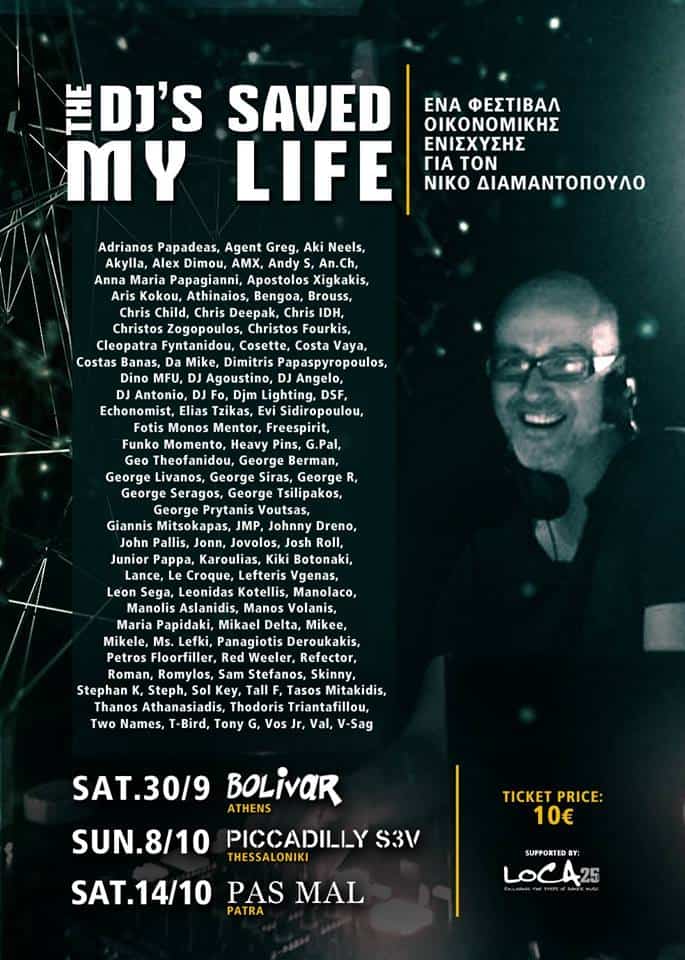 From dexx to life! Financial support to Nikos Diamantopoulos
A huge movement of love and solidarity, of the Greek Djs
Nikos Diamantopoulos is one of the most successful Greek music producers / DJs / remixers who enjoys great appreciation and love, not only from the audience, but also from all his colleagues.
2017 was a milestone year in his life, not because another success was released … but because in March, unfortunately, he was diagnosed with neurinoma (a benign tumor on the head) in a very difficult place and so he has been facing the biggest for a long time. a challenge in his life … a very rare case that in combination with the small population of Greece makes it even more rare.
Nine out of ten doctors who examined Nikos, due to the difficult access to the tumor and due to the rarity of the case, do not undertake it and strongly urged him to go abroad, since there is no experience for such a complicated operation in Greece.
Nikos Diamantopoulos must be operated on immediately at the Ini Institute of Neurosurgery in Hanover, which specializes in such cases, and the cost of this difficult operation is enormous. So four of his friends took the initiative and decided to help.
Music is Nikos' great passion, music brings us closer and unites us in difficult and good times. That's why friends, acquaintances, associates, small and large groups gather to play music with the sole purpose of helping their beloved friend. Three dates, three venues all over Greece: on Saturday 30/09 at Bolivar Beach Bar (Athens), on Sunday 8/10 at Piccadilly (Thessaloniki) and on Saturday 14/10 at Pas Mal (Patra) we dance and sing loudly for Nikos!
DJs participate on a non-profit basis and all ticket revenue will be used to treat Nikos.
Participate alphabetically:
Adrianos Papadeas, Agent Greg, Aki Neels, Akylla, Alex Dimou, AMX, Andy S, An.Ch, Anna Maria Papagianni, Apostolos Xigkakis, Aris Kokou, Athinaios, Bengoa, Brouss, Chris Child, Chris Deepak, Chris IDH, Christos Zogopoulos , Christos Fourkis, Cleopatra Fyntanidou, Cosette, Costas Banas, Costa Vaya, Da Mike, Detlef, Dimitris Papaspyropoulos, Dino MFU, DJ Agoustino, DJ Angelo, DJ Antonio, DJ Fo, Djm Lighting, Djm Lighting, DSF, Echonomropist, Elias Sziklou Evi , Fotis Monos Mentor, Freespirit, Funko Momento, G.Pal, Geo Theofanidou, George Bearman, George Livanos, George Siras, George R, George Seragos, George Tsilipakos, George Prytanis Voutsas, Giannis Mitsokapas, Heavy Pins, JMP, Johnny Dreno, John Pallis, Jonn, Jovolos, Josh Roll, Junior Pappa, Karoulias, Kiki Botonaki, Lance, Le Croque, Lefteris Vgenas, Leon Sega, Leonidas Kotellis, Little D, Manolaco, Manolis Aslanidis, Manos Volanis, Maria Papidaki, Mikael Delta, Mikee , Mikele, Ms. Lefki, Panagiotis Deroukakis, Petros Floorfiller, Red Weeler, Refector, Roman, Romylos, Roni Iron, Sam Stefanos, Skinny, Sol Key, Stephan K, Steph, Tall F, Tasos Mitakidis, Thanos Athanasiadis, Thodoris Triantafillou, Two Names, T- Bird, Tony G, Val, Vos Jr, V-Sag.
Τράπεζα Πειραιώς  WinBank : IBAN GR63 0172 1740 0051 7404 4110 926, Νίκος Διαμαντόπουλος.